This is a great Weight Watchers meal (9 points) or just a healthy meal in general.
We have a family of 5 but baby had already eaten and was in bed.
The shopping list
Hormel Always Tender Pork Chops (no bones)
18 Asparagus Spears
Low Fat Parmesan Cheese
Canned Beans
Watermelon
Seasoning for the pork (BBQ rub is good) or just a smidge of BBQ Sauce
Olive Oil
I cooked the pork (seasoned) at 425 until done (time depends on the thickness of the chops) Then change the oven to broil and put the spears on a cooking sheet brush on the Olive Oil and add Parmesan. It should look like this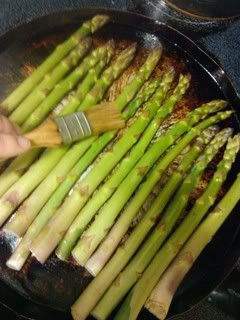 Then broil till the cheese is a light brown color. Take out and serve.
Add Watermelon and 1/4 cup beans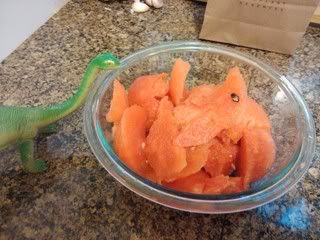 The end product should look like this...Enjoy